Free!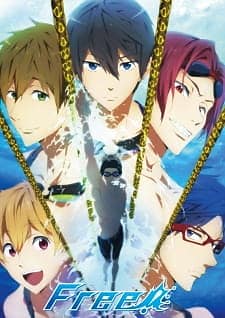 English: Free! - Iwatobi Swim Club
Type: TV
Episodes: 12
Status: Finished Airing
Aired: Jul 4, 2013 to Sep 25, 2013
Producers: Kyoto Animation, Lantis, Animation Do, Iwatobi High School Swimming Club
Genres: Comedy, School, Sports, Slice of Life
Duration: 24 min. per episode
Rating: PG-13 - Teens 13 or older
Cerita ini mengisahkan tentang Haruka Nanase seorang anak yang mencintai renang. Sebelum lulus SD ia mengikuti sebuah turnamen renang bersama sama dengan anggota klub renang, Makoto Tachibana, Nagisa Hazuki, dan Rin Matsuoka. Setelah memenangkan turnamen itu merekapun berpisah.
Waktu berlalu. Dan pada saat SMA Rinpun muncul dan menantang Haruka bertanding dan menunjukan pada Haruka kekuatannya. Tak mau berakhir dengan kekalahan,Haruka bersama Makoto dan Nagisa sekali lagi mengajak anggota baru bernama Rei Ryugazaki membuat klub renang SMA Iwatobi untuk mengalahkan Rin.
Theme Song
Opening:
1.
'Rage on' by OLDCODEX
Ending:
1.
'SPLASH FREE' by STYLE FIVE
Download Sub Indonesia
Speed RD lebih besar dari SB, tapi tdk bisa berganti IP
- FREE! 01
{SS}
RD |
3GP
|
MP4
|
HDQ
|
SB |
3GP
|
MP4
|
HDQ
|
- FREE! 02
{SS}
RD |
3GP
|
MP4
|
HDQ
|
SB |
3GP
|
MP4
|
HDQ
|
- FREE! 03
{SS}
RD |
3GP
|
MP4
|
HDQ
|
SB |
3GP
|
MP4
|
HDQ
|
- FREE! 04
{SS}
RD |
3GP
|
MP4
|
HDQ
|
SB |
3GP
|
MP4
|
HDQ
|
- FREE! 05
{SS}
RD |
3GP
|
MP4
|
HDQ
|
SB |
3GP
|
MP4
|
HDQ
|
- FREE! 06
{SS}
RD |
3GP
|
MP4
|
HDQ
|
SB |
3GP
|
MP4
|
HDQ
|
- FREE! 07
{SS}
RD |
3GP
|
MP4
|
HDQ
|
SB |
3GP
|
MP4
|
HDQ
|
- FREE! 08
{SS}
RD |
3GP
|
MP4
|
HDQ
|
SB |
3GP
|
MP4
|
HDQ
|
- FREE! 09
{SS}
RD |
3GP
|
MP4
|
HDQ
|
SB |
3GP
|
MP4
|
HDQ
|
- FREE! 10
{SS}
RD |
3GP
|
MP4
|
HDQ
|
SB |
3GP
|
MP4
|
HDQ
|
- FREE! 11
{SS}
RD |
3GP
|
MP4
|
HDQ
|
SB |
3GP
|
MP4
|
HDQ
|
- FREE! 12
{SS}
[END]
RD |
3GP
|
MP4
|
HDQ
|
SB |
3GP
|
MP4
|
HDQ
|